A Koopa's Revenge
Comments

2
24pages on
this wiki
A Koopa's Revenge
is a flash game created by MCSMStudios/Burgerstein.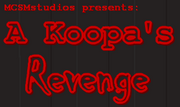 The game was released on Janurary 29, 2006. A Koopa's Revenge is a popular game, it can be found on numerous sites. The game features Koopa as he needs to go through the different worlds and reach Mario's Castle so that he can take him on to get his revenge.
A sequel, A Koopa's Revenge II, is going to be released soon.
Goomba, Koopa and 4 Goombas are having a tea party with Bowser at his castle, when Mario suddenly invades! He throws Koopa far, far away near his castle, and then hands then Goombas over to his brothers (and wife) and as for Bowser...
Meanwhile, Koopa is stuck at Mario's Castle, and he notices Bowser's Castle is being destroyed. He quickly rushes back to Bowser's Castle and the adventure begins...
Bowser's castle is located at the south-west part of the map. Set inside the castle, this is where the adventure truly begins.
Boss: Wario
A mysterious forest that is set in the night time.
Super Secret Level
Boss: Peach
Sky MountainEdit
Located at the very top of the map, a mountain that is freezing with ice.
Sky Mountain 1
Sky Mountain 2
Sky Mountain 3
Boss: Waluigi
Dry DesertEdit
A desert that is set in the night time. Pyramids are also the landmarks of this hot desert.
Dry Desert 1
Dry Desert 2
Dry Desert 3
Boss: Luigi
Mario's CastleEdit
The lair of the evil Mario. This marks the last world of the game.
Mario's Castle 1
Mario's Castle 2
Mario's Castle 3
Final boss: Mario
No Title

No Title

No information
References to Super Mario series
Edit
Super Mario Bros: When Koopa defeats a Mario Brother or Peach, he can rescue a Goomba, and that Goomba will say "Thank you Koopa! But Bowser is in another castle!" Similar to how Toad will say "Thank you Mario! But our Princess is in another castle!"
Super Mario World: The Fire Flower returns, as well as the Cape Feather (which looks more like a corn dog) and Yoshis.
Super Mario Galaxy: This is the third time that you actually have to make it BACK to Peach's Castle (or in this case, Mario's Castle) instead of Boswer's. The first is this game, the second is its sequel, and the fourth is New Super Mario Bros. U.
New Super Mario Bros: This game is a spinoff of NSMB, as the events of the game happen after this game.
References to later games
Edit
New Super Mario Bros. U: The plot is very similar.